Ultimate USA with New York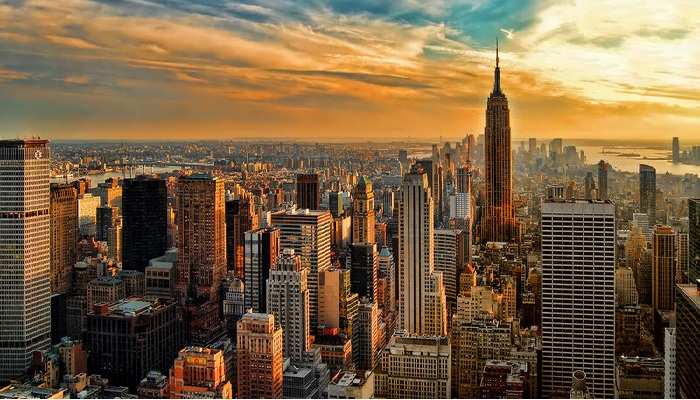 SIGHTSEEING INCLUDED IN THE TOUR:
New York:- Statue of Liberty, Empire States building, City tour of Los Angeles, Ground Zero
Washington DC:-Air and Space Museum, City tour of Washington DC
Niagara:-Maid of the Mist, Cave of the winds, Discovery pass
Orlando:-Epcot Center, Magic Kingdom, Sea World, Kennedy Space Center
Las Vegas:- Grand Canyon with Skywalk, Helicopter ride, Stretch Limo ride
Los Angeles:- Universal Studio, City tour of Los Angeles
San Francisco:- Bay Cruise, cable car ride, City tour of SFO

HOTELS:
San Francisco:- Hotel Holiday Hilton Oakland Airport or similar
Los Angeles:- Hotel Embassy Suites Downey or similar
Las Vegas:- Hotel Monte Carlo or similar
New York:- Hotel Hilton Meadow Land or similar
Washington DC:- Hotel Hilton Westin Dulles airport or similar
Niagara :- Hotel Holiday Inn or similar
Orlando :- hotel Four Points by Sheraton similar

Tour Cost:
USD $3700 PER ADULT
USD $2399 PER CHILD
Tour Cost Includes:
1. Accommodation in deluxe hotels on twin sharing basis as per the itinerary.
2. Daily Breakfast, Lunch & Dinner as mentioned in the itinerary
3 All transfers and sightseeing is included as per the itinerary.
4. Step on guide will be in orientation tours of SFO, LA, NY, DC. 5. All ground transportation by air-conditioned vehicle
6. All entrance fees as per the itinerary.
TOUR COST EXCLUDES:
1 Airfare/ Airport Taxes (International/ Domestic)
2. Visa fees (USA/ CANADA)
3. Any item not mentioned in the include column/ any difference in the rate of exchange on the date of Booking.
4. Any Shore Excursion on the Cruise/ Tips to Tour Managers.
Note:
1. The rates are subject to change and are based on availability
2. Company reserves the right to change the hotel, schedule & departure dates without any prior notice.
3. Please carry a photocopy of your passport and two passport size photographs in case of an Emergency.
4. Keep your passport, money and other valuables separate from check in baggage.
5. Carry: normal clothes, one woolen cloth, camera, cap, sun glass, personnel medicines, Travel insurance, one formal dress or suit for formal dinner on cruise, a pair of leather shoes for evening dinner, toilet accessories.
Airlines check in time:
Airport reporting time is 03 hours prior to departure for International Flights and 02 hour prior to departure for domestic flights. Proceed directly to your airline check-in counter and do remember not to carry any sharp objects or any other objects that may not pass security.
Luggage:
Each person is allowed to take 23 Kgs (1 suitcase per person only is permitted on coach) any extra piece of baggage will be charged at US$100 per piece. Do tag your luggage with your nametag that includes address and phone number. It is prudent to leave a copy of your passport and an itinerary at home with a family member.
Contract:
All booking are taken understanding that You accept these terms and conditions. Cute Holidays organizes services like hotel accommodation, transfers, sightseeing tours and cruise bookings. We being travel organizers only, We do not control or Operate any Airline, neither do we own or control or operate any shipping company, coach company, hotel, transport or any other service mentioned in this brochure. Though we take care in selecting all the necessary agencies for your vacation, we have no control in running them. Hence we cannot be held responsible for any injury, death, loss or damage, or deficiency in services which is caused by the act or default of management or employees of an independent contractor arising outside our normal selection and inspection process.
Booking and Payment:
A nonrefundable and interest free deposit of $1000 is paid at the time of registration. The balance amount of tour portion should be made payable 60 days from the commencement of the tour. If the balance amount is not paid within 60days the tour stands automatically cancelled and the amount non-refundable. The registration amount is non-adjustable against any other tour or service.
Change of Pricing:
Though all efforts would be made to maintain the cost given, Price structure may change in event of a change in government policies, change in the Tax Structure or Fuel Hike or any hike which may come in effect with 01 Jan. 2017. This difference would have to be borne by the passenger.
Liability:
Universal Explorer is not liable or responsible for any damages, loss, injury accident, death, delay, breakdown or irregularity that may occur in carrying out the tour arrangement. (In event of a passenger falling Ill or suffering any accident during the journey, all hospital expenses, doctor fees, repatriation expenses, and other charges incurred as a direct or indirect result of his / her illness / accident are the responsibility of the passenger. (Management reserves the right to claim any additional expenses due to delay or changes in train, air plane, bus ship or other services, weather conditions, strikes, war, quarantine or any other cause whatsoever all such loss or expenses must be borne by the passenger.
Cancelation Chrages are as follows:
Period Cancellation Charges
120 Day and Above Deposit amount
120 - 90 Days 25% of the tour cost
90 - 60 Days 50% of the tour cost
60 - 30 Days 75% of the tour cost
30 - 0 Days No Refund
Quick Contact
Address:
500, 4th Ave S W, Suite 2500, Calgary. AB T2P 2V6. Canada

Contact No.: 647 830 0196

Email: info@universalexplorer.ca