Europe Summer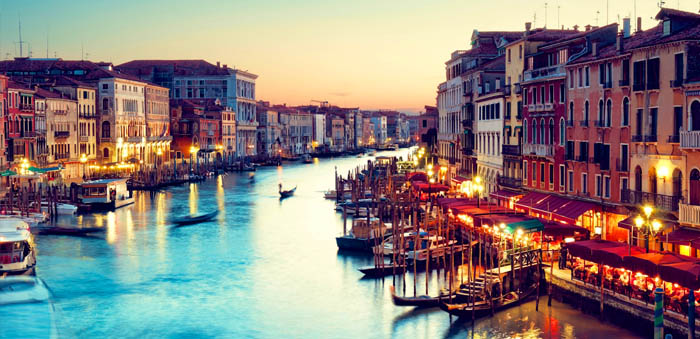 Tour Package Includes:
3 nights' accommodation in Paris
1 night accommodation in Amsterdam
1 night accommodation in Heppenheim
2 nights' accommodation in Innsbruck
1 night accommodation in Venice
1 night accommodation in Rome
1 night accommodation in Florence
4 nights' accommodation in Switzerland
Hotel names as mentioned above or similar
Daily breakfast, 13 lunches & 14 dinners
A private coach throughout the journey as per the itinerary
Night tour of Paris
Guided Paris city tour with visit to Eiffel
Seine River Boat cruise
Full day Disneyland
Manneken-Pis & Atomium in Brussels
Madorodam in Amsterdam
Visit to Cheese & wooden show factory
Visit to Cologne Dome
Visit to Swarovski World
Innsbruck city tour with cable car & Zoo
Venice St. Mark's Square, Venice island guided walking tour with Gondola ride
Guided city tour of Rome including Vatican St Peter's Square
Leaning tower of Pisa (outside view)
Orientation tour of Florence
Visit to Trummelbach Falls
Visit to Mount Jungfrau
Visit to Mount Titlis with ice flyer
Orientation tour of Interlaken & Zurich
Lucerne Lion Monument & Chapel Bridge
Visit to Rhine Falls
1 travel bag per couple
Dry snacks during sightseeing
Tour Package Excludes:
Any drinks or meals other than specified
Driver tip of EUR 2 per person per day
Porterage & Laundry
Any personal expense
Tour Package Highlights:
Indian food prepared by our own chef in Germany & Switzerland in the same hotel where you will be staying
Rajasthani food available in Venice
Chat available in Rome
Note*:
The rates are subject to change and are based on availability.
Company reserves the right to change the hotel, schedule & departure dates without any prior notice.
If the group consists of less than 20 passengers then there will be additional Surcharges.
Please carry a photocopy of your passport and two passport size photographs in case of an Emergency.
Carry: normal clothes, one woolen cloth, camera, cap, sun glass, personnel medicines, Travel insurance, one formal dress or suit for formal dinner on cruise, a pair of leather shoes for evening dinner, toilet accessories.
Rooms Two to share a room. Single supplement applies where Applicable, children below 12 years will share parent's room without extra bed.
In case the visas are rejected visas charges and ticket cancellation charged would apply
Issuance of Visa is solely in the hands if Consulate

Luggage:
Each person is allowed to take 20 Kgs (1 suitcase per person only is permitted on coach) any extra piece of baggage will be charged at Cad $150 per piece. Do tag your luggage with your nametag that includes address and phone number. It is prudent to leave a copy of your passport and an itinerary at home with a family member.
Contract:
All booking are taken understanding that You accept these terms and conditions. Universal Explorer organizes services like hotel accommodation, transfers, sightseeing tours and cruise bookings. We being travel organizers only, We do not control or Operate any Airline, neither do we own or control or operate any shipping company, coach company, hotel, transport or any other service mentioned in this brochure. Though we take care in selecting all the necessary agencies for your vacation, we have no control in running them. Hence we cannot be held responsible for any injury, death, loss or damage, or deficiency in services which is caused by the act or default of management or employees of an independent contractor arising outside our normal selection and inspection process.
Booking & Payment:
A non-refundable booking amount $1000 is paid at the time of registration. The land portion balance amount should be made payable 60 days from the commencement of the tour. If the balance amount is not paid within 60days the tour stands automatically cancelled and the amount non-refundable. The cruise deposit is payable at the time of the booking and the full payment is payable in before the Final payment date of the cruise liner. The registration amount is non-adjustable against any other tour or service.
Change of Pricing:
Though all efforts would be made to maintain the cost given, Price structure may change in event of a change in government policies, change in the Tax Structure or Fuel Hike or any hike which may come in effect with 01 Jan. 2015. This difference would have to be borne by the passenger.
Liability:
Universal Explorer is not liable or responsible for any damages, loss, injury accident, death, delay, breakdown or irregularity that may occur in carrying out the tour arrangement. (In event of a passenger falling Ill or suffering any accident during the journey, all hospital expenses, doctor fees, repatriation expenses, and other charges incurred as a direct or indirect result of his / her illness / accident are the responsibility of the passenger. (Management reserves the right to claim any additional expenses due to delay or changes in train, air plane, bus ship or other services, weather conditions, strikes, war, quarantine or any other cause whatsoever all such loss or expenses must be borne by the passenger.
Cancelation Chrages:
Period & Cancellation Amount
75 days & above Deposit amount
75 - 60 Days 25% of the tour cost
60 - 45 Days 50% of the tour cost
45 - 30 Days 75% of the tour cost
30 - 0 Days No Refund
Quick Contact
Address:
500, 4th Ave S W, Suite 2500, Calgary. AB T2P 2V6. Canada

Contact No.: 647 830 0196

Email: info@universalexplorer.ca